Nursing home patients as well as patients in elder care and assisted living facilities may find themselves subject to dozens of adverse conditions through no fault of their own: pressure ulcers, falls, fractures, malnutrition and dehydration are some of the more prominent injuries. In part one of this two part discussion, we will look at those first three issues that arise in nursing homes, assisted living facilities and elder care facilities.
PRESSURE ULCERS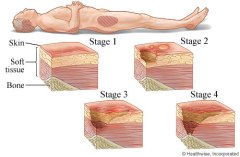 Pressure ulcers are also referred to as pressure sores, bedsores, and decubitus ulcers.  A pressure ulcer can range from a very mild pink coloration to the skin, which disappears in a few hours after the pressure is relieved, to a very deep wound extending to and sometimes through a bone into internal organs.  All pressure ulcers follow symptoms similar to burn wounds, ranging from mild redness (similar to a first degree burn) to a deep open wound with a blackened tissue (as a third or fourth degree burn).
The primary cause of pressure ulcers is unrelieved pressure, but can occur from friction or from prolonged exposure to cold. Any area of tissue that lies just over a bone is more likely to form a pressure ulcer. These areas include the spine, coccyx or "tailbone", hips, heels, and elbows. Other contributing factors to the development of pressure ulcers are poor nutrition, weight loss, diabetes, poor hygiene, and dehydration.
Prevention is the most important component of pressure ulcer management. Removing all pressure from the involved areas to prevent further decay of tissue and promote healing is the primary method of treatment. Frequent turning is mandatory to alleviate pressure on the wound and to promote healing. The individual must have increased nutrition to allow for proper healing of the wounds.
Another key aspect of treatment is keeping the area clean and removing dead or necrotic tissue which can form a breeding ground for infection. Some deep wounds require surgical removal, called debridement, of dead tissue.  Without all of these elements being in place the wounds will not heal properly and will likely worsen.
Pressure ulcers may indicate potential problems with the care being delivered to the nursing home resident. Even in good nursing homes, small wounds may develop, but with attention, these wounds will heal. According to Federal law, in most situations there is no medically valid reason for a pressure ulcer to progress to a Stage IV situation (a massive deep open wound).
FALLS AND FRACTURES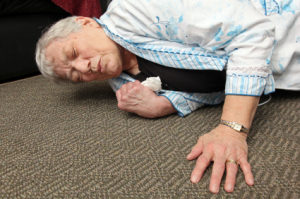 Falls are the most frequent cause of fractures in the elderly. Nursing home residents are at increased risk of falls due to their age, but there are other factors as well. Nursing home personnel are required to assess patients regularly to determine their risk for falling and provide safety devices and services to minimize the risk of injury to the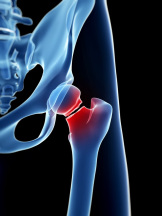 resident. Some of the risk factors for falls include:
Previous falls
Cardiac arrhythmias
Stroke
Central nervous system disorders such as Alzheimer's disease, Parkinson's disease, dementia and others
Problems with mobility and gait
Low blood pressure (orthostatic hypotension) on standing up
Bowel or bladder incontinence
Dizziness
Dehydration
Visual impairment
Use of restraints
Medications
We can help if you or a loved one has been injured due to nursing home neglect and abuse. You will need an experienced and dedicated lawyer who is willing to fight for you. To speak with an attorney at Prieto, Marigliano, Holbert & Prieto, LLC about an injury, substandard care or the loss of a loved one resulting from nursing home neglect, contact us today. Our firm has lawyers and staff members who only handle these types of cases. We have the experience, diligence and legal sophistication necessary to handle your case with the highest degree of competence and care.
PMHP Law, LLC represents clients throughout Georgia and the Southeastern United States. To schedule a free consultation with a lawyer at our firm, call us at (404) 618 0082 or visit us online at www.eldercareabuselawyer.com.
Serving clients in:
Atlanta, Bartow, Cherokee, Cobb, Floyd, Fulton, Whitfield, Douglas, Polk, Chatham and all of Northwest Georgia, North Georgia, Central Georgia and South Georgia, as well as much of the Southeastern United States.