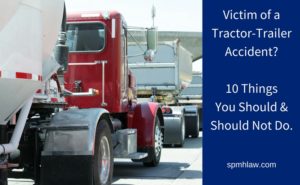 If you were the victim of a tractor-trailer accident, you need to take the following steps right now to help your recovery. By making informed decisions, you can get back to being yourself. You might be able to recover compensation to pay your hospital bills, to buy a new car and to make up for the wages that you lost because of your injuries. Your ability to recover much-needed compensation may depend on what you do after the accident. Follow these steps to protect your case and your right to compensation.
Five Things to Do After a Truck Accident
Get a medical checkup even if you don't think that you've been injured. Some symptoms may not develop immediately after the accident. Physicians can take X-rays and diagnose whiplash and other soft tissue injuries. Keep copies of your medical records and hospital bills so that you can recover compensation later.
Take photos that document the accident scene if you can. Capture details that might help you build a successful case. Show the weather at the time of the accident. Look for skid marks, and check the condition of the roadway. Take a photo of your vehicle and any damaged property.
. Contact the nearest law enforcement agency immediately after the accident. If someone was injured, a police officer should arrive quickly. The official accident report should include the time and date of the accident, the location, driver information and other relevant details. When talking to the officer, stick to the facts.
Exchange insurance information and contact details with the truck driver. If you can, write down the DOT registration numbers of the cab and the trailer. Your attorney can use this information to investigate the accident and recover the logbooks.
Collect the contact information of any drivers or pedestrians who witnessed the accident. Witnesses can provide an accurate picture of how the accident happened, which can help to strengthen your case.
Top Five Don'ts for Victims of Truck Accidents
Never admit fault or take responsibility after the accident or during an investigation. Trucking companies and insurance carriers will try to blame you. If you take the blame, you may lose your right to compensation.
Do not discuss the accident with the truck driver. This will help you avoid a public confrontation. It will also prevent your words from being used against you in court.
Never sign any type of document from the trucking company or the driver's insurance company. The company may try to get you to give up your right to a claim and financial recovery.
Do not agree to an insurance settlement without consulting an attorney. If you accept any type of settlement, the insurance company will have you sign a release that prevents you from suing for the same accident and injuries in the future.
Don't discuss the accident with anyone who represents the other driver, including an insurance agent, claims adjuster or investigator. These people may trick you into admitting fault or weakening your case.
If you have been injured in a truck accident, do not make critical decisions without consulting an experienced truck accident attorney first. Our personal injury lawyers can assess your losses and make sure that you receive the compensation that you need.
Call us at (855) 329-7144 or (404) 618 0082 to schedule a consultation. If you can't make it to our office near The Perimeter and Dunwoody, our nationally recognized attorneys can visit you. Slover, Prieto, Marigliano & Holbert LLC has recovered millions of dollars in settlements and court verdicts for personal injury victims in Atlanta. We will fight to make insurance companies and trucking operators pay for your injuries.