Make sure you can speak for those who may not be able to speak for themselves
In a story that was published in the Augusta Chronicle from June 2013, A nursing home employee was arrested Wednesday in connection with assaulting an Alzheimer's patient. The female employee of Augusta was charged with simple battery and protection of a disabled adult and elder person.
According to a Richmond County incident report, Johnson, who works at The Place, 3235 Deans Bridge Road, woke the patient to change her bed sheets when the patient started fighting. Johnson pushed the patient back into her bed and said she would hit the patient if she fought again.
Authorities responded to the nursing home Wednesday morning after a bump was found on back of the patient's head. During the investigation, police reviewed surveillance video of the patient's room, which showed the incident occurring early Monday morning.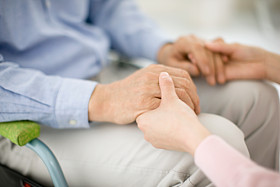 With the increasing numbers of elderly who are being diagnosed with everything from early dementia to full onset of Alzheimer's, it is more important than ever for family to pay close attention to their loved ones when they visit them. In the above case, had the injury never been detected, the assault may well have gone undiscovered.
At the law offices of Prieto, Marigliano, Holbert & Prieto, LLC., we implore our clients (or potential clients) to make sure they vary their visitation in order to keep the staff of any facility on their proverbial toes. If a less-than-ethical employee knows that family only visits on Friday's at 4PM, they will be sure to put not only their best foot forward, but also that of your loved one. By staggering your visitation dates and times, you may be able to catch any abuse or neglect that could be taking place.
Now, we know many nursing homes are run with skilled professionals and with multiple layers of management and oversight.  However, even the best-run business can sometimes hire someone who tries to cut corners or may not be have the skills necessary to be in their position.
Being vigilant is the greatest gift you can bring to your loved one. Pay attention to any possible red flags, like injuries (no matter how slight) or changes in the personality of your loved one. Patients that have been hurt or neglected may not want to make eye-contact or will continually wrap their arms around themselves as an unconscious means of protection. If you really know your loved one, you should not shrug off these possible signs of a more serious situation.
There should never be any hesitation to contact both the administrator of the facility and an attorney. If the facility is truly above board, you will get support and assistance from management. However, when even the best-run facilities know an attorney is also in the loop, it's amazing how much more support you receive. Now imagine the reaction you receive when a facility has been cutting corners or ignoring complaints.
Some families worry about retaliation and, though that may be a natural first reaction, we make a point of comforting our clients with the following insight:  When an administrator, staff and management are made aware that there is a legal presence involved, they will do all they can to avoid bringing any financial repercussions on themselves and their insurers. Oftentimes, we end up assisting a nursing home in removing the personnel or processes, keeping them free from future litigation.
[youtube=www.youtube.com/watch?v=Ue6VbCDHcsg&w=320&h=180]
If you have any questions or concerns about your loved one's rights and whether or not we can be of assistance to you and your family, call us today to setup a free consultation. We have been working in the area of Elder Care law and Elder Abuse law for many, many years and our track record for success speaks for itself. You can gain a lot of information by visiting our website as well at www.eldercareabuselawyer.com or www.spmhlaw.com.
PMHP Law, LLC represents clients throughout Georgia and the Southeastern United States. To schedule a free consultation with a lawyer at our firm, call us at (404) 618 0082 or visit us online at www.eldercareabuselawyer.com.