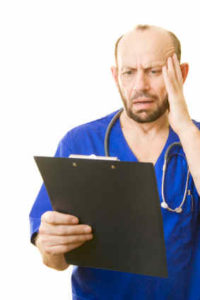 Medical malpractice suits arise when a health care provider fails to provide medical care that comports with the prevailing "standard of care". In essence, should a health care provider fail to provide "reasonable" care and such deficient care causes an injury, a claim for medical malpractice very well may exist for the injured person(s).
Medical malpractice actions are complex, varied, and no two are alike. These lawsuits are one of the cornerstone practices of the PMHP Law Firm. All of our lawyers started their career on the defense side of the bar and Jack Slover and Jon Marigliano have over 50 years of combined experience in defending doctors, hospitals, nurses, hospitals, therapists, counselors, psychologists, psychiatrists, dentists, chiropractors and other health care providers. Knowing how these complex matters are evaluated, both in terms of liability, causation and value by the defendants and their insurance companies, has served as a tremendous asset for PMHP in pursuing medical malpractice claims. The network of physicians, nurses and other health care providers that PMHP can timely consult with to evaluate your case is extensive and has invaluably served our clients.
Medical malpractice actions arise in innumerable ways and not two cases are alike. Such claims can arise from complications of surgery, the delivery of a child, the misdiagnosis or non-diagnosis of a disease or condition such as cancer, heart attack or stroke, the failure to timely treat a condition, the provision of the wrong medication or the wrong amount of medication, documentation errors which lead to an injury, and a host of other circumstances. The injuries can result in discomfort, the loss of organs or extremities, brain injuries, spinal cord injuries, paralysis and death. The lawyers of PMHP have tried an inordinate number of these matters before a jury and have an unblemished reputation in medical malpractice actions. Only a lawyer who is well-versed and knowledgeable in medicine is appropriate to handle such a complex matter. Should you have a question about the propriety of medical care you or someone close to you has received, the lawyers at Prieto, Marigliano, Holbert & Prieto, LLC. will be happy to discuss your case with you.
PMHP Law, LLC represents clients throughout Georgia and the Southeastern United States. To schedule a free consultation with a lawyer at our firm, call us toll-free at 1-(855) 329-7144 or locally at (404) 618 0082, or visit us online at www.pmhplaw.com.
Serving clients in:
Atlanta, Bartow, Cherokee, Cobb, Floyd, Fulton, Whitfield, Douglas, Polk, Chatham and all of Northwest Georgia, North Georgia, Central Georgia and South Georgia, as well as much of the Southeastern United States.