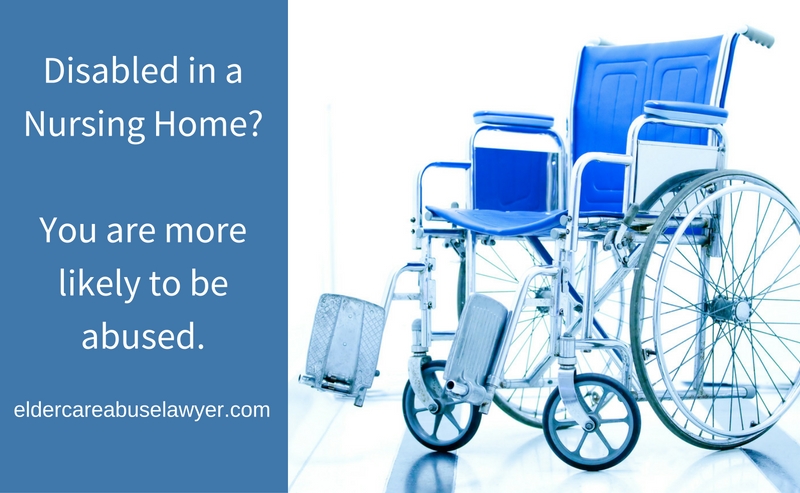 Numerous studies have found that disabled patients are abused more frequently and more severely than able adults. Frequent interactions with caregivers put these patients at risk. Adults and children with physical disabilities experience all types of abuse. Mistreatment and neglect can happen at home and in skilled nursing facilities. Organizations like the American Bar Association and the American Psychological Association are among those advocating for the rights of disabled Americans and helping to prevent abuse.
Types of Abuse
Thanks to a new statute that passed in 2016, abusers in Georgia face criminal charges and larger penalties. The law applies to all types of mistreatment although the state code defines abuse, neglect and exploitation separately.
Abuse covers the willful infliction of physical pain and mental anguish as well as the deprivation of essential services.
Neglect involves withholding essential services in a way that physically or emotionally harms the patient.
Exploitation applies to the misappropriation of a patient's resources, such as using money for personal gain.
Risk Factors for Disabled Abuse
Disabled adults and children face disproportionate amounts of abuse. They are abused more frequently, and they are abused for longer periods. Mistreatment persists because they are less likely to leave abusive situations and because they don't have equal access to the justice system. Abusers can easily prevent a patient from contacting community organizations and attending medical appointments. That way, the patient has fewer opportunities to report the abuse and escape the situation. Woman and children with disabilities are abused more frequently than other groups. They may experience sexual assault and abusive behavior that is difficult for outsiders to detect. Nursing home staff and community aids may control and punish disabled patients in the following ways.
Denying access to food
Forcing a patient to wear soiled garments
Throwing away scooters, wheelchairs and walkers
Touching the patient inappropriately
Withholding prescription medications
Administering medications against the patient's will
Why Disabled Abuse Happens
Abuse can happen to anyone. Staff members, family, friends, partners and strangers can be abusive. In nursing homes, abuse is more likely to happen if the facility is understaffed, the employees haven't been properly trained or there's a stressful work environment.
What you can do To Help Abuse Victims
If you have seen abuse or know someone who is suffering, you can help. Remember that many victims are afraid to make reports because they believe that the abuse will increase. They may also worry about being institutionalized if no one will care for them. In some cases, victims struggle with feelings of embarrassment, shame and low self-worth. It is possible for concerned friends to recommend counseling or to talk to someone that the patient respects. Counselors can show the person that he or she does not deserve to be treated like that. Abuse can be addressed in the following ways.
Discuss the issue with friends and family.
Reach out to support organizations.
Contact Adult Protective Services.
Make a report online or by phone.
If someone is in danger, call the police.
Reporting abuse is the only way to stop it. If someone you know has been harmed while in the care of a nursing home, contact Prieto, Marigliano, Holbert & Prieto, LLC by calling (855) 329-7144. We help victims of abuse recover compensation and access quality care.
Mike Prieto established our nursing home abuse practice, which is one of the largest in Atlanta and the state. He devotes 100 percent of his time to helping clients in this area and has recovered millions of dollars in successful verdicts. Call our office to arrange a free consultation with Mr. Prieto.