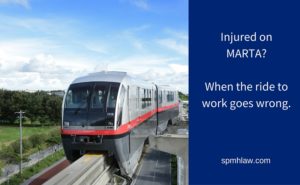 The Metropolitan Atlanta Rapid Transit Authority (MARTA) serves 1.6 million passengers each year. About 60 percent of passengers commute to work daily, and 70 percent of riders use both the train and bus to reach their destinations.
Although MARTA prides itself on transporting passengers safely, efficiently and dependably, a number of deadly accidents occur each year. While riding on Atlanta's trains and buses, innocent passengers have had their lives changed in an instant. Public transportation accidents also affect motorists and pedestrians.
Causes of Bus and Train Accidents:
Poorly maintained equipment
Insufficient training and oversight
Inadequate communication
Distracted driving or texting
Driver intoxication
Driver error or negligence
Recklessness by other motorists
MARTA Bus Accidents
Each year, MARTA buses and mobility vehicles are involved in several fatal accidents and many more injury crashes. In the first half of 2016, the following bus accidents occurred.
Two people who were waiting for a bus were killed and another was injured when a reckless motorist swerved to avoid the MARTA bus that arrived at the stop. The driver was charged with homicide by vehicle.
At 7 a.m., a pedestrian was hit by a MARTA bus while using a crosswalk in downtown Atlanta.
In Clayton County, a construction worker was hit by a bus as he ran across the street.
A bus drove off I-285 and crashed into several trees. Fortunately, no one was injured. Police said the driver was traveling too fast for conditions.
In June 2016, a motorcyclist was killed in East Point after crossing the centerline and crashing head-on into a bus.
Four passengers were injured in a collision involving a MARTA bus and a pickup truck.
In 2015, there was a high-profile accident involving an Atlanta bus and a CSX freight train in East Point. A portion of the bus was on the tracks when the train passed through the crossing. The bus spun from the initial blow and was hit again. The driver and five passengers sustained serious but non-fatal injuries.
That same year, a dozen passengers were injured when a MARTA driver ignored a stop sign, crossed the solid yellow lines and crashed into multiple vehicles. Recent verdicts for MARTA bus accidents have ranged from $250,000 for an injury claim to $4.1 million for a wrongful death lawsuit.
Commuter Train Accidents
Between 1994 and 2006, there were four MARTA derailments. They were all caused by human error. Most recently, a train stalled near the Medical Center station. The train was moving between the platform and a rail crossover when the wheels ran off the tracks.
Several derailments and MARTA train accidents were caused by a lack of communication between drivers, workers and control center supervisors. These employees endangered passengers by failing to follow protocols during emergencies and routine maintenance. In 2000, two workers were fatally injured when an unscheduled train hit the self-propelled boom lift that they were using to repair the ceiling above the tracks in Lenox station. The families reached a $10.5 million settlement with MARTA.
The Effects of Train and Bus Accidents
Everyone has experienced delays and traffic jams caused by accidents. For some unsuspecting commuters, an accident can result in large hospital bills and permanent disabilities. If you've been injured in a MARTA accident, our attorneys can help you get the compensation that you need to resume your life. We will fight to help you reach a settlement that covers your medical bills, lost wages and more.