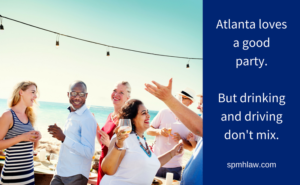 The effects of drunk driving are devastating. Intoxicated drivers endanger innocent lives every time they hit the road. The Centers for Disease Control and Prevention says that Americans drive under the influence more frequently than expected. Based on a large number of self-reporters who admitted to drunk while intoxicated in the previous month, the CDC estimates that there are 121 million instances of drunk driving annually. Fortunately, fatal accidents linked to alcohol decreased slightly across Atlanta's five-county core between 2013 and 2014.
In Cobb County, alcohol-related fatalities dropped from 19 to 10.
In DeKalb County, fatalities decreased moderately from 20 to 14.
In Gwinnett County, there was a year-to-year increase of 12 to 14.
In Fulton County, facilities fell slightly from 21 to 20.
In Clayton County, fatalities went from seven to five.
Holidays and DUIs
Despite awareness campaigns and sobriety checkpoints, holidays are notorious for DUIs. On Labor Day weekend in 2014, nine families in Georgia and 10 in South Carolina lost loved ones in alcohol-related accidents. One woman from Augusta lost her mother, her cousin and her daughter in a fatal accident. They were on their way to Disney World.
In 2013, a 70-year-old drunk driver went on a rampage in Gwinnett and DeKalb counties. He hit at least 15 vehicles and killed one driver. Victims reported that he repeatedly rammed into their cars and forced one sedan under a tractor-trailer.
In July 2016, a police dash cam captured a drunk driver plowing his truck into a teenage skateboarder in Fulton County. The victim suffered from head injuries that required multiple surgeries. Police officers smelled alcohol on the driver and saw an empty beer can in the vehicle.
50-Year Jail Sentence
In April 2016, a young Atlanta resident received a 50-year jail sentence. Jorge Solis hit a car head-on while he was driving under the influence on Father's Day morning. The accident killed two children and their grandfather and left their three-year-old sibling paralyzed. Solis was under age at the time of the accident and had been arrested for DUI several months earlier. According to the district attorney, Solis was so drunk that he passed out on the median after police arrived. The children's father said that harsher punishments are needed.
Mothers Against Drunk Driving (MADD) has urged Georgia to update its DUI laws. It is one of the few states that does not require ignition interlocks for first-time offenders. Instead of developing stricter penalties, lawmakers have considered permitting Sunday liquor sales because those purchases could generate approximately $4 million in additional tax revenue. Opponents argue that the tax gains would come at a tremendous cost to drivers. Currently, Georgia rakes in about $189 million in alcohol taxes each year. On the other hand, MADD estimates that the state's taxpayers foot the bill for $1.4 billion in various alcohol-related expenses annually. Accidents caused by drunk drivers can cost hundreds of thousands of dollars and leave victims with lifelong disabilities. However, drunk driving isn't about the money. It's about the innocent families that are torn apart by reckless drivers.
If a friend or a family member has been injured by a drunk driver, contact our personal injury attorneys. We may be able to help you recover compensation and achieve justice for your loved ones.