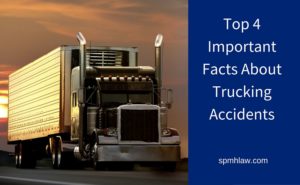 Truck accidents claim 4,000 lives each year and injure some 95,000 motorists nationwide. If you live in Atlanta or travel through the city, you should know that 20 percent of that state's fatal accidents occur in the five-county metropolitan area. Years of safety campaigns have reduced truck accidents by a modest amount, but figures continue to fluctuate. Here are a few facts that show how trucking accidents impact the community.
1. The True Cost of Truck Accidents
The effects of high-speed truck accidents are devastating, yet operators keep raising the stakes by driving more, sleeping less, and lobbying for even bigger, heavier trucks that are more difficult to control. In its 2015 Pocket Guide to Large Truck and Bus Statistics, the Federal Motor Carrier Safety Administration said that large commercial vehicle accidents cost $100 billion each year. Fatal truck crashes cost some $42 billion. Property damage and injury accidents represent the remainder. According to AAA, an injury collision costs $125,000 and a fatal accident costs $6 million on average.
2. Top Causes of Big Truck Accidents
Despite positive trends nationally, the accident rate in Georgia hasn't improved. In Gwinnett County, all accident types increased between 2013 and 2014. According to the Large Truck Crash Causation Study, incentives and recognition programs that are intended to increase driver performance cause 20 percent of multi-vehicle truck accidents. Poor decision-making causes 11 percent of crashes. Mechanical and vehicle issues cause a smaller portion of collisions with brake failure, tire blowouts, and shifting cargo being the most common.
3. Why Federal Regulations Aren't Helping
The government has a number of trucking regulations that are enforced during roadside inspections. With the current number of tractor trailers and the limited group of qualified inspectors, it's difficult to find every violation. Unfortunately, many motorists have been gravely injured by these ongoing problems. The National Highway Traffic Safety Administration says that the majority of violations involve logbook entries, such as excessive hours of service, out-of-date notes, and false entries. Many drivers have received additional citations while they were violating out-of-service orders.
4. The Risks of Bigger Trucks
Knowing that thousands of semis are operated by drivers who aren't licensed or who have been cautioned for previous violations emphasizes the idea that most traffic accidents are preventable. Today, many states allow larger trailers that are up to 60 feet long. Georgia is against the proposed changes. However, 53-foot trailers have already replaced older 48-foot types in most areas. Freight companies are also advocating 33-foot tandem trailers that could increase the length of piggy-back trucks by 10 feet.
In early 2016, the U.S. Department of Transportation said it didn't have sufficient evidence to update longstanding size and weight regulations. Its study showed that supersized trucks had longer stopping distances, more out-of-service orders, and more brake violations. The heaviest trucks today are already responsible for the majority of fatal accidents. Now, the industry wants to put their profits ahead of safety once again. Every time there's an accident, negligent companies should be held accountable for the systematic failures and unsafe business strategies that harm law-abiding motorists.
If you've been injured in a truck accident, the experienced attorneys at Slover, Prieto, Marigliano & Holbert LLC can fight to recover compensation that can help you pay your medical bills and make up for financial losses. Call (855) 329-7144 to schedule a complimentary meeting at our office in metro Atlanta.