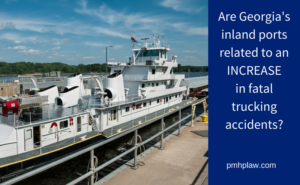 Officials with the Georgia Ports Authority and CSX Transportation continue to celebrate their successful push to build six inland freight ports across the state. Meanwhile, residents dread increased highway traffic and a rise in truck accidents.
In 2013, Georgia's first inland train-truck port opened in Savannah's Garden City suburb. Murray County in Georgia's northwestern corner is the latest target. Folks in the towns of Chatsworth and Dalton worry about longer waits at traffic lights, slower commutes and reduced road maintenance. Nearly everyone is concerned about decreased property values, excessive noise and environmental risks. The scenic cattle pasture turned rail terminal and truck depot is nestled between several protected natural areas and the Chattahoochee National Forest, but there are other important concerns.
The Cost of Building Georgia's Inland Port Network
The Appalachian Regional Port in Chatsworth is a cornerstone in the Network Georgia initiative that will eventually include one inland port in each of the state's six regions. Extreme marketing and lobbying pushed the project forward. As the largest rail operator east of the Mississippi, CSX has vast corporate power.
In 2015, Gov. Nathan Deal granted $19.7 million to build the regional port in Murray County, which promises economic growth and additional tax revenue. The government says that the intermodal transportation network will offer faster, cheaper shipping options for import and export entities and regional manufacturers across a handful of states in the Southeast. However, nonprofits say that Georgia has overlooked the growing pains and public safety risks.
Will Inland Ports Decrease or Increase Truck Traffic?
Port authority officials claim that the Appalachian intermodal hub will reduce truck traffic on Interstate 75 and Atlanta's I-675 and I-285 bypasses. According to official statements, the inland port will eliminate 40,000 truck trips through metro Atlanta and 350 miles of road travel for each shipping container for a combined annual reduction of 18 million truck miles.
The Network Georgia project might lower statewide road travel, but it will boost local and regional truck traffic since goods must be transported to and from the ports. In Chatsworth, shipments include carpeting, flooring, furniture, lumber and Volkswagen vehicles made in Chattanooga, Tennessee.
The site in Murray County is near existing CSX rail routes, but it's also close to I-75. The port is located on Georgia Highway 411, so truck traffic and ensuing accidents will likely increase on the road. A disproportionate percentage of tractor-trailer accidents occur on secondary roads that weren't designed for heavy trucks.
The Impact of Savannah's Cordele Inland Port
Southeastern Georgia faced growing pains and problems since the privately operated Garden City intermodal terminal opened. This inland hub is near I-16 and state highways 280 and 300 outside Savannah, which is home to a busy deep-water shipping port.
After its opening, truck traffic increased so much that the state committed to spending $10 million annually to strengthen its commercial vehicle enforcement division. During 2013, truck accidents jumped by 4 percent. Fatal multi-vehicle crashes are so common on I-16 that it's been nicknamed "Devil's Road." On one foggy night, there were 10 separate accidents.
The Cost of Georgia's Inland Ports
Already, Georgia is home to some of the nation's most dangerous highways based on the number of fatal accidents per mile. Increasing truck traffic will only make things worse. With trucking companies cutting costs to boost their profits, semi-trailers have grown bigger and maintenance programs have become weaker.
The price that Georgians must pay to fulfill the government's economic goals is too high. These safety risks and costs will increase over the next 10 years as additional inland ports go into service across the state.
Contact Prieto, Marigliano, Holbert and Prieto today.