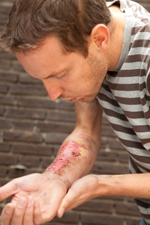 Burn injuries arise in a variety of circumstances. Damaging burns can result from, among other causes, auto and truck road accidents, fires in residential homes and commercial buildings, flammable clothing and flammable liquids, industrial explosions, hazardous chemicals and products, found in both the home and at work, faulty electrical wiring or from damaged electrical cords or high voltage wires, inhalation from smoke or steam, and radiation used in medical treatment, tanning beds and other purposes. The severity of the injuries can range from mild discomfort to death.
Burn injuries impact much more than just the skin. Depending on the severity of the injury, burn injuries can impact the nerves, muscles, tissue, blood vessels, vital organs and bone. Not only do burn injuries impact a person physically but these injuries, which often remain as permanent injury, can cause extensive psychological and emotional injury as well.
The lawyers at Slover, Prieto, Marigliano & Holbert routinely handle medical malpractice and nursing home abuse cases and are well-versed in the language of medicine, the complexities of the medical aspects of a personal injury matter and have the requisite experience to not only assist you or your loved one with your legal claim but also to find the proper medical treatment needed to help repair the damage burn injuries cause. Should you or a loved one have been the victim of negligence that led to burn injuries, our lawyers can assist you with the management of the medical care and the pursuit of a legal matter.
PMHP Law, LLC represents clients throughout Georgia and the Southeastern United States. To schedule a free consultation with a lawyer at our firm about your experience, call us at (404) 618 0082 or toll-free at 1-(855) 329-7144. You can also visit us online at www.pmhplaw.com.
Our team has argued on behalf of the injured in courtrooms large and small all across the South. We have taken on the big companies head-on because we know they have teams of lawyers doing their best to vehemently protect their profits. Don't you deserve that same level of focus and dedication to fight for you?
Serving clients in:
Atlanta, Bartow, Cherokee, Cobb, Floyd, Fulton, Whitfield, Douglas, Polk, Chatham and all of Northwest Georgia, North Georgia, Central Georgia and South Georgia, as well as much of the Southeastern United States.