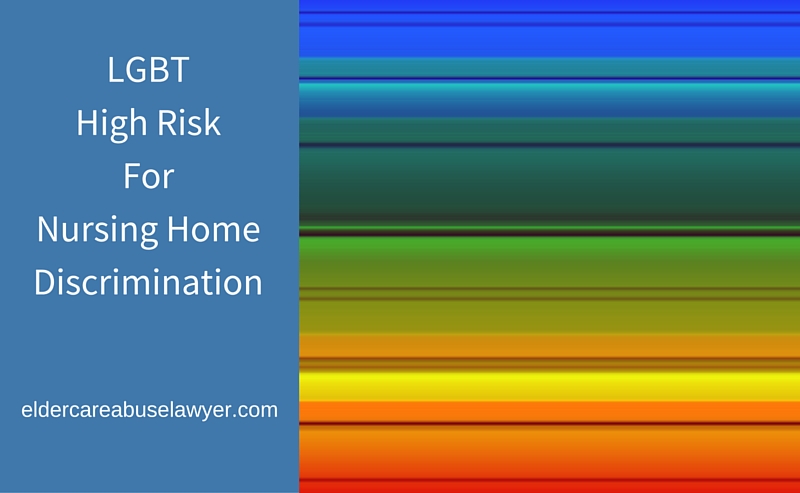 In the long-term care industry, LGBTQ+ discrimination is systemic. Hateful behavior comes from staff members and administrators as well as residents who are rude, disrespectful or homophobic.
According to many sources, older individuals who fought for LGBT rights early on are being forced back into the closet due to an overwhelming fear of discrimination. A groundbreaking report compiled by Justice in Aging and several advocacy groups shed light on the severity of these issues.
Types of LGBT Discrimination and Abuse
The study included accounts from more than 750 individuals, including 326 who reported abuse. Each person experienced 2.6 instances of abuse on average. These were the most common examples of mistreatment:
Verbal and physical harassment by fellow residents
Denial of admission or re-admission as well as abrupt discharge
Verbal and physical harassment by staff members
Refusal of a medical power of attorney from an LGBT spouse or partner
Restriction of visitors
Failure to use a preferred name or pronoun among transgender residents
Denial of medical treatment
Failure to provide basic services
A Lack of Tolerant Facilities
A directory maintained by the Gay and Lesbian Association of Retiring Persons includes just eight officially LGBT-oriented facilities in the nation. Several of these developments are in the planning stages. Unfortunately, some people can't afford these for-profit communities. Many seniors suffer due to the stereotype that gay and lesbian couples are affluent. In fact, the poverty rate is higher among LGBT seniors.
Poverty and LGBT Discrimination
One anonymous respondent in the Justice in Aging survey said that he was dreading his imminent move to assisted living. Due to his finances, he said that he would be sharing a room with another man. He was afraid to tell anyone that he was gay, and the thought of going back into the closet made him sick.
The fear of coming out in a nursing home is fully validated. Just over 85 percent of service providers who were surveyed believed that it was not safe for residents to come out or said that they weren't sure whether residents should come out at all. One experienced social worker who responded to the survey said she had never met a resident who mentioned an alternative sexual identity.
Problems and Solutions
Seniors who identify as LGBTQ+ face frequent nursing home discrimination for several reasons. First, there are very few facilities that are gay-friendly and have adequately trained staff. Second, 55 percent of LBGT seniors live alone. They often don't have children or partners to care for them, so health care facilities are their only option. Third, they avoid long-term care due to a fear of discrimination and harassment, so they sometimes require more frequent or more intensive treatment.
Today, there are approximately 3 million LGBT seniors. This number is expected to double by 2030. Nursing facilities haven't kept pace with evolving patient identities and family groups. Single individuals and couples sometimes leave nursing homes because of the continuous discrimination that they face.
Advocates believe that these painful situations can be reduced if long-term care facilities make an effort. Although the number of equipped facilities is limited, prospective residents can reduce their risk of discrimination by choosing a nursing home that meets these criteria.
The facilities should have a non-discrimination policy that specifically protects LGBT residents and employees.
Staff members should receive additional training from LGBT groups.
Ideally, the facility should have openly gay clients and employees.
Suitable facilities may display LGBT symbols in public areas and on brochures.
Ask whether the facility recognizes families of choice and permits friends and partners to participate in residents' care.
Intake forms and documents should recognize LGBT groups. For example, forms should include a place for information about a same-sex partner.
Find a property that lets same-sex partners share a room.
LGBT seniors shouldn't have to compromise when seeking quality care and a compassionate environment. Unfortunately, many LGBTQ+ seniors have faced severe medical and housing discrimination due to their sexual orientation, gender identity or health status. Although same-sex partners do not enjoy equal rights in some areas, such as health insurance and income tax, there are multiple protections against discrimination that should be enforced.