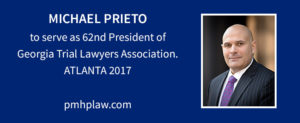 Atlanta 2017—Members of the Georgia Trial Lawyers Association (GTLA) have elected Atlanta-based attorney Michael Prieto to serve as president for the 2017 term. Mr. Prieto succeeded Pope Langdale of Valdosta to become the GTLA's 62nd president. Prieto has been a GTLA member since 2004 and previously served on the board of directors for the 2016 Civil Justice PAC.
"As president, I am focused on upholding the GTLA's mission of protecting the public's unalienable right to a jury trial," Prieto stated. "Along with our committee members, we will plan new initiatives to mobilize supporters statewide. I am grateful for the support that the GTLA has provided to me and to Georgia's attorneys. It's my privilege to lead an influential organization that helps the public."
President Prieto is a partner in the personal injury firm Prieto, Marigliano, Holbert & Prieto, LLC. This practice is dedicated to representing plaintiffs in nursing home abuse cases. His interest in justice began with his father fighting during Cuba's Communist Revolution. Around the same time, his mother was working for a superior court in Georgia, and he was watching legends like Bobby Lee Cook try high-profile cases.
These experiences contributed to Prieto's commitment to making certain that justice is within anyone's reach. Over the past 20 years, this belief has guided his litigation career and led to landmark verdicts in nursing home abuse and neglect lawsuits.
Prieto graduated from Kennesaw State University and Loyola University New Orleans College of Law. He's a member of the Bartow County Bar Association, American Association for Justice, AAJ Nursing Home Litigation Group and GTLA Nursing Home Litigation Group. Since 2010, Super Lawyers has recognized Prieto for his outstanding achievements. Prieto is a Gulf War veteran. In 2004, he rejoined the military and left his practice to serve in Afghanistan. He's the father of twins.
President Prieto concluded, "During my tenure, I will work with our committees to achieve key objectives established by former Presidents Langdale and Penn. We will also create new goals to assure the continued success of the GTLA and its members."
The GTLA
The Georgia Trial Lawyers Association represents more than 2,000 attorneys across the state. Since 1956, it has protected the public's constitutional right to a jury trial. The GTLA works with attorneys, offers training and provides advocacy services.
Prieto, Marigliano, Holbert & Prieto, LLC
PMHP is an Atlanta-based law firm dedicated to aggressively representing personal injury plaintiffs in court. For more than 25 years, PMHP has fought for families and accident victims. The firm's practice areas include medical malpractice, car and truck crashes, nursing home abuse and wrongful death.