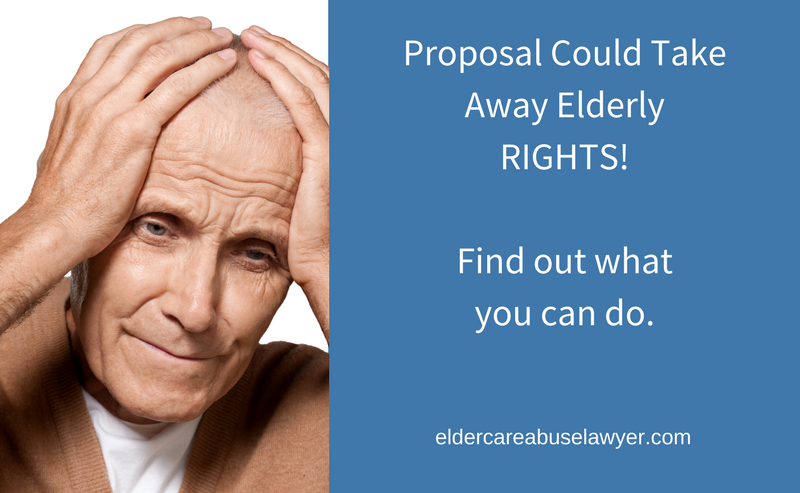 In the fall of 2016, the Centers for Medicare & Medicaid Services (CMS) took one step into the future by banning mandatory pre-dispute arbitration agreements. Now, the government has taken two steps into the past by revising the proposal and removing the most valuable protections for residents' rights.
The Proposal Banning Mandatory Arbitration in Nursing Homes
The goal of the 2016 proposal was to prohibit long-term care facilities from forcing new residents or their representatives to sign binding arbitration agreements as a condition for their admission. Mandatory arbitration prevents residents and their family members from suing nursing homes for abuse, neglect, injury or death. Arbitration limits financial awards and obscures newsworthy incidents with a cloak of secrecy. By preventing residents from filing lawsuits and having their cases heard by juries, nursing homes are avoiding accountability and creating a lax environment where they can get away with abuse and neglect.
The Need for Stronger Consumer Protection Laws
The proposed ban against mandatory arbitration agreements was created in response to deceptive tactics that long-term care corporations use to mislead residents. For example, some unscrupulous nursing homes didn't tell incoming residents that they could opt out of arbitration, which was bad enough. Today, the situation for current and future nursing home residents is worsening. The rights of millions of nursing home residents are in jeopardy.
The Industry's Response to the Proposed Arbitration Ban
On October 4, 2016, the CMS published its final rule prohibiting mandatory arbitration agreements. Two weeks later, the American Health Care Association, a nonprofit trade group that represents 11,000 nursing homes, filed a lawsuit challenging the ban. Ironically, the trade association eagerly filed a lawsuit while it was fighting to deny nursing home residents the same right.
The district court issued a preliminary injunction in early November and instructed states to stop any enforcement activities a month later. On June 2, 2017, the government requested the court to dismiss its own appeal against the injunction. Several days later, Trump administration officials published a series of revised rules.
Original Requirements That Were Removed During the Revision
Here are a few key points that were included in the final rules published during the Obama administration. All of these requirements were removed by the Trump administration. These guidelines apply to all long-term care facilities that accept Medicare or Medicaid funding.
Nursing homes are prohibited from having new residents sign predispute arbitration agreements.
Nursing homes do not have the right to deny admission or expel residents who have not agreed to arbitration. In other words, signing a binding arbitration agreement should not be a requirement for admission.
All arbitration agreements must be signed voluntarily.
Both parties are entitled to a neutral arbitrator.
The arbitration venue should be convenient for residents and the nursing home's representatives.
Rules That Were Retained in the Updated Proposal
Arbitration agreements must not discourage or prohibit residents from contacting an ombudsman, a health department official or a resident advocacy group.
If a dispute is settled through arbitration, the facility must keep a copy of the signed arbitration agreement for five years and give the document to the CMS if needed.
New Rules Added by the Trump Administration
Arbitration clauses can be included in all standard admissions contracts.
 Nursing homes can require residents to sign arbitration agreements as a condition for their admission.
Admissions personnel must clearly explain arbitration to the incoming resident or the resident's representative.
Arbitration agreements and clauses must be written in plain language.
Facilities must post an arbitration notice that's visible to visitors and residents.
What the Updated Laws Mean For Nursing Home Residents
Policy changes are common with ebbing political parties. However, in this case, the government has completely reversed its view on the issue. CMS officials stated that after reconsidering the rules, it determined that the cost of lawsuits would be burdensome to nursing homes. The CMS took the side of nursing homes when it said that arbitration would be faster, cheaper and less adversarial.
This contradicts statements made under the Obama administration, which explicitly said that arbitration gave long-term care facilities unequal bargaining power in disputes and that residents and family members didn't receive adequate explanations. These statements inferred that nursing homes were taking advantage of families while they were going through a very difficult and stressful time.
What You Can Do Now
Hopefully, voices on the other side of this issue will speak louder now that residents' rights are at stake once again. When this proposal was introduced in 2016, 34 senators and 16 attorneys general supported the ban against mandatory predispute arbitration agreements. The American Bar Association and the American Arbitration Association also endorsed it. Unfortunately, the House lagged behind with just three state representatives supporting the change. The CMS will accept comments until August 7, 2017, so now is the time to contact your state's representatives.
Due to ongoing lawsuits, the ban against mandatory arbitration has never been enforced. Regardless of the outcome, it's important for potential nursing home residents and family members to read the admissions contract. If there is an arbitration clause or a separate agreement, contact an elder law attorney before you sign. Don't give up your right to sue.